Rotunda Software Partners With Red Hook Responds to Help New York Community During COVID-19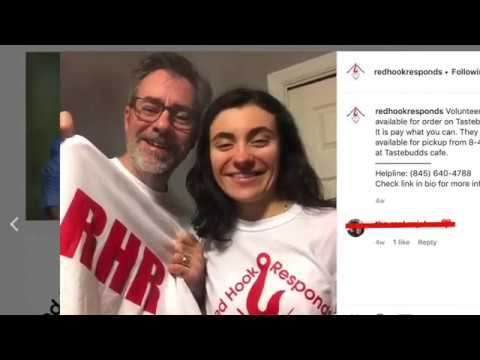 Rotunda Software, the creator of scheduling software Volunteer Scheduler Pro, is proud to announce a partnership with the Town and Village of Red Hook, New York, and their newly formed volunteer initiative, Red Hook Responds. This initiative, launched April 10, 2020, is using Volunteer Scheduler Pro to mobilize over 400 volunteers who are making grocery and pharmacy deliveries, conducting "Neighborly Chats" with the elderly, and serving as Helpline Operators and Shift Leaders. Red Hook Eats, a sub-committee of Red Hook Responds, is also using Volunteer Scheduler Pro to arrange meal deliveries to the homebound.
Daniel Budd, owner of Taste Budds Cafe in Red Hook, said "I was trying to focus on humanity and think of ways I could help my community as this crisis emerged. At the same time, Chris Donohue, a local high school student and one of my employees at Taste Budds Cafe, reached out to me with an idea for partnering with our local church to expand volunteer services for the community." Budd, who also sits on the Economic Development Committee for Red Hook, reached out to Mayor Ed Blundell and other area elected officials for support. Red Hook Responds was officially formed as a way for the community to immediately help citizens in need.
Looking for a way to organize volunteers, the group contacted Rotunda Software for guidance on how to best implement Volunteer Scheduler Pro for their needs. "It's amazing how customizable the system is and how it's made our lives so much easier with scheduling our volunteers," Budd said, describing how Volunteer Scheduler Pro has become a centralized resource for their team. "It's important to work with a company we can reach out to when we need help. Volunteer Scheduler Pro offers that." High school student Chris Donohue added, "the unlimited tech support is very helpful and we're looking to use Volunteer Scheduler Pro beyond the Coronavirus emergency."
Raina Hanson, Director of Technical Support for Rotunda Software, worked closely with the Red Hook Responds team to implement Volunteer Scheduler Pro. "Working with Red Hook Responds is a perfect example of why we do this type of work, because our organizations share very similar values. Streamlining recruitment, scheduling, and communication with volunteers makes a huge impact in the people that Red Hook Responds serves. It has been amazing to see them act so quickly to provide people with the services they need, and to see them grow. We are so glad to partner together and be a part of their story!"
Red Hook Responds: https://www.redhookresponds.org/